March 2023
By MSF's field communication team in South Sudan
Changkuoth Yoal is a nurse recently graduated from Médecins Sans Frontières (MSF) Academy for Healthcare in Lankien, Jonglei state in South Sudan. In a region severely affected by intercommunal conflict and a fragile health system, Changkuoth is among the 88 learners who have successfully completed the two-year intensive clinical training programme. This programme is composed of five learning modules on basic clinical nursing care focusing on 85 skills.
Changkuoth's passion for healthcare developed at 19 when he witnessed his mother fighting for her life against kala azar, the second deadliest parasitic disease globally. During his mother's treatment, he observed the dedication of doctors and nurses, and he was inspired to pursue a career in healthcare.
"The learning from the academy has made a great impact on me," said the 26-year-old Changkuoth. "I learnt a lot of skills that I never practised before. With this training, I am a step closer to my dream of saving lives in my community and providing them with dignified quality of care."
I learnt a lot of skills that I never practised before. With this training, I am a step closer to my dream of saving lives in my community and providing them with dignified quality of care.
MSF has over 3,000 staff in South Sudan, and more than 90% of them are recruited locally. However, finding qualified healthcare workers to provide essential services remains a significant challenge as decades of conflict and underinvestment in healthcare have left the country with a severe shortage of medical infrastructure and qualified professionals. Therefore, MSF saw the need to invest in training and upskilling the medical workforce through the MSF Academy for Healthcare.

Working in collaboration with the national Ministry of Health, the MSF Academy for Healthcare initiated its programme in the Republic of South Sudan and the Abyei Special Administrative Area in 2019. To date, MSF has trained health workers in seven regions including Lankien and Old Fangak in Jonglei State; Maban and Malakal in Upper Nile State; Pibor, Maruwa and Boma in the Greater Pibor Administrative Area; as well as Agok in Abyei Special Administrative Area.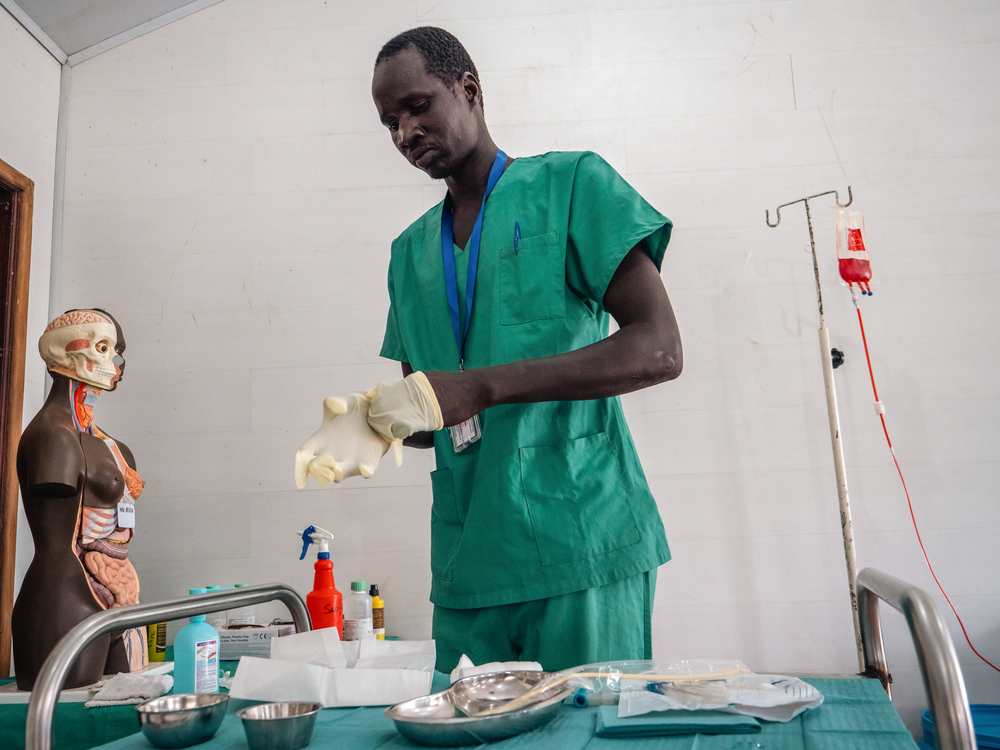 "The MSF Academy aims to professionalise the training of healthcare workers. The main focus has been geared towards local healthcare workers providing nursing, midwifery or outpatient care. The specificity of the approach adopted by the MSF Academy lies in supporting the learners in their workplace," said Serviour Dombojena, the Country Representative for MSF Academy for Healthcare in South Sudan.
The learners from Lankien are the second batch to graduate from South Sudan as 35 completed the training in Old Fangak last year. Most of them continue to work with MSF, while others are working for the Ministry of Health and other organisations across the country. The programme thus not only improves quality of care given to the patients, but also contributes to a better trained workforce to the health system. More than 100 students are currently enrolled in the MSF Academy's basic curriculum for nursing care, and 27 in its out-patient department curriculum.
"I come from an area where there are no doctors. I really want to help my community by being a nurse. So, it is the smallest thing I can do to change the lives of people in my community. So, getting this opportunity to study, to gain the skills, is a big opportunity. I believe it will make me a person who really helps in the community", said Jal Gatkek who is under training through a scholarship programme by the MSF Academy at Juba College of Nursing and Midwifery in South Sudan.
Around the world too, the locations in which the MSF Academy intervenes are countries that cannot fully invest in their healthcare system and have immense medical needs. It currently runs programmes in Central African Republic, Guinea, Mali, Nigeria, Yemen and Sierra Leone, and is exploring further expansion in countries like Burkina Faso, Afghanistan and other countries.
The MSF Academy's ultimate goal is to bring long-lasting improvements to the quality of care provided and to progressively diminish the footprint of international personnel by assisting the national healthcare workers to reach new levels of competency and autonomy.
As Changkuoth and his fellow frontline health workers graduate from the academy, this programme instils more hope in them to continue community services and offer an improved healthcare for the people.